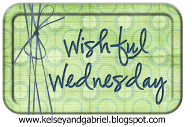 'I wish' .... my life was a movie, and I would want it to be a
romantic comedy
!
I would be played by
Reese Witherspoon
and Fred would be played by
John Krasinski
(Jim from "The Office". Knox would be played by himself because he's just that cute! I actually asked Fred who he would want to play him and we both picked "Jim". I would have picked Jessica Simpson for my role, but she's not that great of an actress, but she'd definitely be on the soundtrack as well as John Mayer (loving his new cd). I guess we'd title the movie...
Simply Smithwick
!
I'd say our movie would be the ultimate chick flick. We're definitely a couple in love and there's always humor and several blonde moments. Think
Legally Blonde
meets
"The Office"
meets
Father of the Bride
. We're those people that sometimes look around and say, "Are we on Candid Camera?" If it's going to happen, it'll happen to us. And we just laugh about it.
Aren't we cute? I know all of you would pay the $8.50+ it costs to see our movie and make us millionaires. Ok, maybe I'd give all of you a free pass and make money off of your family and friends. :)

If you want to play along, visit The Seattle Smith's. What kind of movie would your life be?