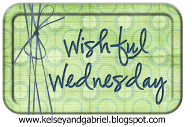 It's the last Wishful Wednesday of 2009. So, here we go...

I am lucky because I got everything I wanted and MORE under the tree this Christmas. I have been truly blessed by such wonderful family and friends. But, there's just one thing that would make my life better...

'I wish' .... Santa would have remembered

Jillian Michaels

was on my list!
Not in a romantic way of course, but I could sure use her to get my butt in gear. I think that I could sweet talk Bob Harper, but not Jillian. I need that "tough love" when it comes to working out. I need her when I eat and when I work out. Food is my enemy and I need someone to push me harder when I work out. Too bad I don't have millions and I can't fly her in to train me for a year.
I almost bought the "30 Day Shred", but I didn't because I didn't actually think that I would use it and why would I want to do the same workout for 30 days?
I know her body is a little manly, but I love her arms. I want guns for arms. Maybe one day.
I could eat and eat and eat and try out for "The Biggest Loser", but somehow, I don't think that would be a very good idea.
FYI: "The Biggest Loser" starts Tuesday, January 5. Set your DVRs.
I hope Santa was as good to you as he was to me. Now, off to thinking about resolutions...