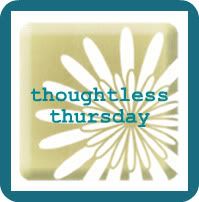 Kids can have four legs and fur. Here are pics to prove Knox is a child...
BABY BED

Knox in his baby bed on the couch. Literally minutes before he chewed a hole in it and took out all of the stuffing. My mother-in-law was nice enough to sew it back up for the little terror.

BATH TIME
Since everyone posts pics of their children in the bath on their blog, here's my child. He hates the bath. Can you tell?

CAR SEAT
Here is Knox riding in his car seat on the way to dinner. We've been bad parents by letting him ride in our laps; so, we're trying to teach him to sit in the car seat, but he cried the entire ride.
Happy Thursday, everyone!! It's almost the weekend! To participate in "Thoughtless Thursday", visit Katie
here
.