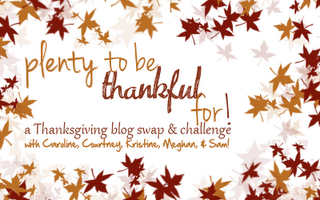 Plenty to be THANKful For Blog Swap Revealment
For the Blog Swap, I was paired up with Ashley from Adventuresome Wyomingite. Let me just tell you, she is super sweet and fabulous! I mean, look at the goodies I got:
She sent me a beautiful blue sweater with a pink cami. Love these colors together. She also sent me a super cute card with a Starbucks gift card inside. Seriously, I lucked out!
So, tell me what you got from your swap partner...