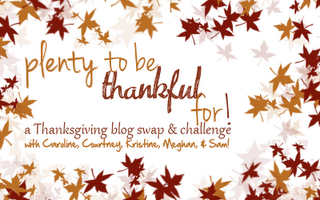 I'm THANKful For Thanksgiving Traditions!
Thanksgiving in our family is an all-day extravaganza! We wake up late, watch the Macy's Thanksgiving Day Parade and get ready for our
two
feasts. We start off with Thanksgiving lunch at my parents house around 12pm, stuff ourselves and then head to Fred's parents' house around 7pm and do it all over again.
I actually feel bad at Fred's family's Thanksgiving because I usually don't eat a lot since I'm still stuffed from my family's Thanksgiving. But I still pig out (or is it turkey out?!)
But if the night ends early (and we can push ourselves away from the table), we try and go to see a movie since our 1st date was on Thanksgiving 5 years ago! Who knows, maybe this year, we'll hit Target and Macy's at midnight! :)
What are your Thanksgiving Traditions?
Upcoming Topics:
Wednesday, November 23rd – I'm THANKful For The Special People In My Life!
Thursday, November 24th – I'm THANKful For Thanksgiving! (Post a picture of your table… if you have time!)
Friday, November 25th – I'm THANKful for Black Friday & Leftovers!
Monday, November 28th – BLOG SWAP REVEAL!