I am linking up again with
Holly
and
Jake
for their "Finish the Sentence Link-Up". Let's face it, I'm in a bit of a blogging rut and this is just the thing I needed to have something to post about...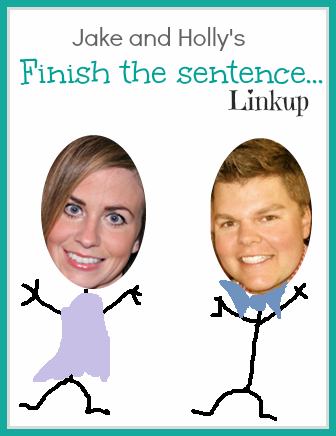 1.
If calories didn't count, I would eat
everything in sight. Seriously, what would I have to lose?
2.
On my Prom night
, I went to prom and came home. Lame, but let's face it, college was WAY better than high school.
3.
When I go to the store, I always buy
bananas. They're my favorite and easiest fruit to eat.
4.
Family functions typically
turn in to all day affairs. What can I say, we enjoy each other's company!
5.
I think my blog readers
are the BEST! And I am so thankful for their positive comments and support! Love you!
6.
I'd much rather be
somewhere warm and tropical with a beach. This weather is for the birds.
7.
I have an obsession with
chapstick. I've got one squirreled away in every room in the house. I also don't leave home without it.
8.
My work friends
are all males. Working in the marine industry, I am surrounded by males. But it's all ok since my hubby is my co-worker.
9.
When I created my Facebook account
, Facebook was cool. Now it's lame and seems like all of my friends are out to save the animals of the world. Don't get me wrong, I love animals, but every posting. C'mon. I really only use Facebook to house my photos.
10.
My least favorite word is
"totes". Sorry. Totes annoying!
11.
I really don't remember
much about December 2012 - February 2013. It's all been such a blur since Eli's arrival. I feel like I'm finally coming back to life. Watch out!
12.
Justin Bieber
gets me every.single.time with his catchy songs. I want to hate him, but I can't. I may be 30, but I have Bieber-Fever!
C'mon and join us! Who needs to really think on a Tuesday anyway???