I can't believe how fast this week is flying by! I hope you've had fun and learned lots through our link-up party!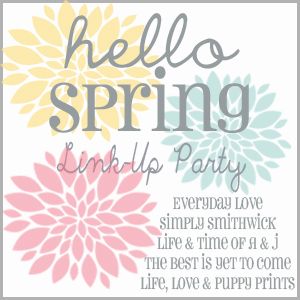 Today's Topic:
Spring DIY
I'm not the craftiest person and I really don't have the time right now to start learning, but there are some things I want to create.
The two DIY's on my to-do list aren't necessarily Spring related, but they need to get done ASAP. Here's what I am planning on doing in the next few weeks...
Create Eli's birth to 3 month book on
Shutterfly
Shutterfly now has a story time series and I am so excited to check it out!
organize all of Eli's cards that he's received from birth...right now, they're just sitting in a pile on the counter, but I want to make a cute little keepsake for him.
What's on your Spring DIY list this year??
Don't forget about the link-up schedule:
Monday: Spring Bucket List
Tuesday 3/19: Spring Fashion
Wednesday 3/20: Spring Cleaning
Thursday 3/21: Spring DIY
Friday 3/22: Best Spring Recipe